(yea, I'm posting "Sunday's fabric a little early.)
I'm going to give you all a little insight in to the conversations at our house these days...
"Oh honey... we should go to Disneyland in February, so that we can get our $50 breakfasts." *
*We went to D-land for part of our honeymoon, and stayed in the Grand California Hotel, and ate at their buffet EVERY morning we were there, and still talk about it all the time.
"Oh... that sounds too good! You know I'm having a hard time here... why are you talking about French Toast, and syrup, and juice!?!"
------------
Take 2:
"Honey, guess what I want?"
"Sugar."
"yep."
_________________________________
Jay had made a resolution to go on a diet this year. I still haven't lost the Steiger weight, and think it would be a good idea to finally make a real effort before I add weight with #2 (which we're still working on). He's doing low-carb; I'm doing reduced-carb/no sugar.
In good news though, he's lost 6 pounds, and I've lost 4... and sugar really isn't good for us anyway, so I think we'll keep going for now.
Oh, let me get to my point.
Though I have the ability to have many different projects going at once, I can only do one diet at a time. And for now, it's the food variety. (And I had some Christmas money).
So I added some of my own to the pile...
...and got busy sewing with Aneela.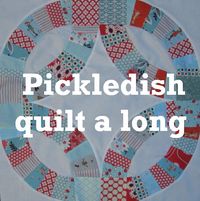 At this point, I had every intention of using ivory as my background, but this Moda Bella solid in Medium gray looked better. (I love this gray; I don't know if you can tell in the pictures, but it's a warm gray, and very pretty... I used it in Jay's quilt too.)
(I even did some of those curves without pins!). ;)
And then I made my second.
And then I took them outside to so they'd have a proper picture.
Use the link above for all the information on making your own. I used freezer paper for my templates, and it worked great. :)
Thank you Aneela for a gorgeous design!
And Happy Dieting all... whatever form you have chosen. :)